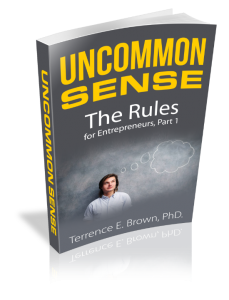 Finally, my new book is near completion. It's titled Uncommon Sense – The Rules for Entrepreneurs, Part 1.
Common sense is not so common anymore. No where is this more true as in business creation, business growth and business management. And yet so many entrepreneurs overlook it.
Uncommon Sense is entrepreneurs' rulebook for creating value in the 21st Century.
Focus groups suck
Customers have 100% of the vote
Don't engage in self-love
Don't buy anything
Think crazy. Act Lazy
And many others…
I would love for you to join my early notification list. I will keep you updated regularly as the book inches towards its release date AND you will get a special link to get the book for FREE when it launches.
Thanks,
Terrence